On May 25, 2018, the General Data Protection Regulation (GDPR) took effect, impacting every organization conducting business with individuals in the EU — consumers, employees and business contacts alike.
To help our customers to comply with the General Data Protection Regulation, we have developed some features in our Framework.
When you visit a website, it may store information through your browser from specific services, usually in the form of cookies. There are required cookies for almost any website (server logs), cookies that do not collect personal information and third-party cookies (http://ec.europa.eu/ipg/basics/legal/cookies/index_en.htm)
We offer GDPR compliance features under Theme Options > Privacy/Cookies in a way that Website administrator, firstly, decides about the initial state of the cookies. Shortly, it's on the administrator call which cookies and personal data will be loaded on the first page from external services (Google Maps, Google Analytics, Videos etc).
The second phase has to do with the possibility of the visitor to override these settings with our new appropriate shortcodes. Besides your Privacy Policy Page (or any other page) where you can place these shortcodes, we have also created a Privacy Preferences modal. If you combine this modal with the new Consent Info Bar, which is situated at the bottom of the page, the visitors of your site besides all the needed information they obtain, they also get the full control to define their preferences.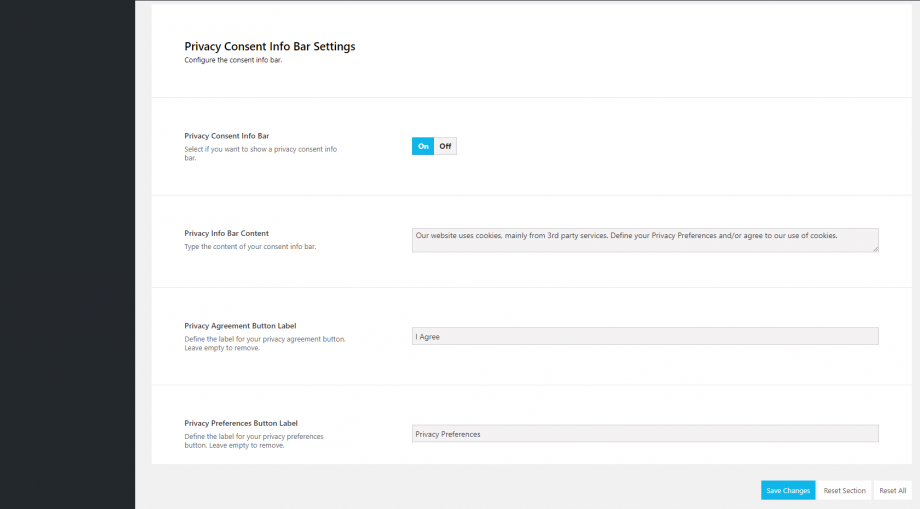 Available shortcodes (for Zuperla):
zuperla_privacy_required – displays a required content for your site e.g: Cloudlflare, CDN etc.
zuperla_privacy_gtracking – allows a user to enable/disable Google Analytics tracking code in the user's browser
zuperla_privacy_gfonts – allows a user to enable/disable the use of Google Fonts in the user's browser
zuperla_privacy_gmaps – allows a user to enable/disable the use of Google Maps in the user's browser
zuperla_privacy_video_embeds – allows a user to enable/disable video embeds in the user's browser
zuperla_privacy_policy_page_link – displays a link to the privacy policy page set from the WordPress admin panel
zuperla_privacy_preferences_link – displays a link to the privacy preferences as defined in the Privacy Consent Info Bar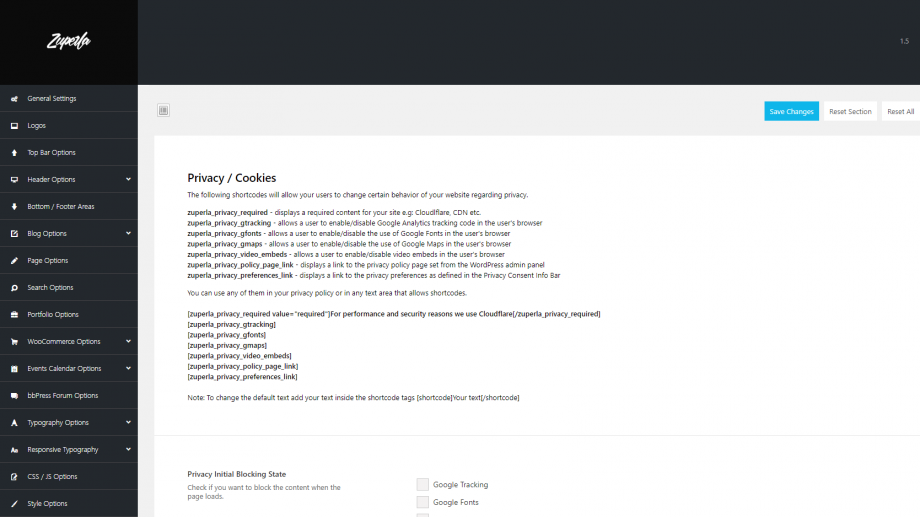 Moreover, the visitors have the possibility to alter their preferences by browsing through the site and come up one blocked service.
For example, if YouTube videos are blocked by the website administrator and a visitor want to watch one, then the last one will have to approve it through consent before any data is processed via YouTube.
We decided to provide fully control for both sides; website administrators and visitors of course. Looking forward for your valuable feedback to ensure that there is no need for 3rd party plugins on your way to GDPR compliance.
Note: The usage of the Blocking content feature is not recommended if you have added caching plugins or page rules to cache static HTML content (aggressive cache). If you use this feature you might need to disable such type of caching.
Websites owners and administrators are responsible for ensuring their own compliance with GDPR and any other law and regulation. We (Euthemians) do not provide legal advice and do not warrant that our framework's features will ensure that clients are in compliance with GDPR and/or any other law or regulation.